subfloor in Hanover pa
Enhance your Basement Subflooring in Hanover, PA with Basement Gurus.
Strengthen Your Basement floor with Exceptional Subflooring Services in Hanover, PA
Maybe you have noticed that your basement floors cause various issues like cracks, seepage, freezing temperatures, loud echoes, fungal issues, and more. Subflooring your basement is the one-stop solution to all your basement floor problems. The subfloor will act as a protective layer by creating a gap between the concrete floor and your basement floor. You can rely on Basement Gurus to provide high-quality Basement Subflooring in Hanover PA.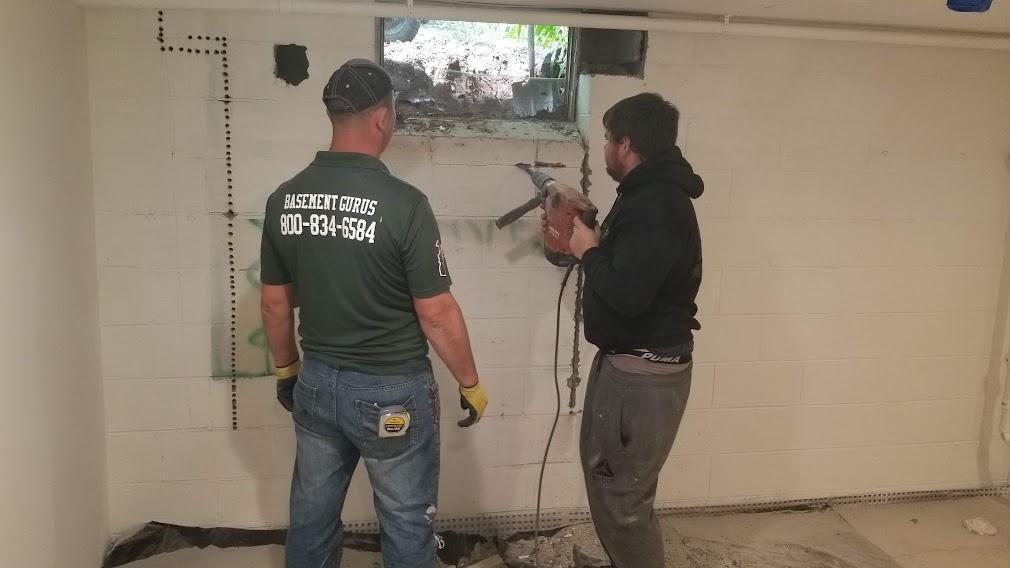 Your basement floor will be protected by installing a subfloor. With the help of Basement Gurus in Hanover, PA, your basement flooring is less likely to slant, get damaged, or experience early wear and tear if you have a subfloor. So what are you waiting for contact Basement Gurus through our website and book a free consultation today. Our team of professionals with our high-quality materials and customized techniques will make sure that your basement floor withstands the test of time.
Why Choose Basement Gurus – Subflooring Company in Hanover, PA?

Reliable Expertise
We can proudly say that we here at Basement Gurus Hanover, PA have years of experience in installing subflooring systems. Our team of professionals has experience fixing all kinds of issues related to the basement floor and has all the necessary skills and knowledge related to floor cracks, water and moisture problems, structural repairs, as well as mold and fungal remediation. 

Premium Quality Materials
Installing a long-lasting subflooring system requires high-quality subflooring materials. We at Basement Gurus Hanover, PA make sure that we use durable, premium-quality subflooring materials that will prevent your basement floors from getting cracked, warped, or collecting moisture. We have access to high-standard and top-grade materials which we use for every subflooring basement project in Hanover, PA. 

Unique Solutions
Our experts work closely with you to understand the various needs of your basement floor and meet your specific requirements. While assessing your home in Hanover, PA we keep in mind elements like the kind of subfloor required, the water levels around your home, and also your unique preferences. Through this assessment, we create a customized solution to all your problems related to basement subflooring in Hanover PA. 

Precise Installations
We at Basement Gurus are committed to installing your basement floor with precise subflooring systems. In order to guarantee that your basement subfloor systems in Hanover PA are durable, well-insulated, and structurally strong we only use the latest techniques which have proven to deliver long-lasting results. By using only the best techniques we prevent you from encountering any basement flooring issues in the future.

Long-term Value
Subflooring your basement is a long-term investment. Choosing Basement Gurus for installing a subfloor system in your basement will pay off in the long run as we use only the best quality materials, employ the latest solutions, and have extensive experience when it comes to subflooring. Our subflooring services will enable you to save money on any future expenses due to poor-quality materials and bad subflooring jobs. Our subflooring methods guarantee you long-term value and lasting results.

Customer Satisfaction
Customer satisfaction is the main focus of Basement Gurus in Hanover, PA. We promise to go above and beyond your expectations with our reliable service, years of expertise, and dedication to quality. Our aim is to provide you with a subflooring solution that not only satisfies all the needs of your home so that you can create a healthy living environment for yourself and your family. We have a huge base of satisfied customers and you can check their reviews on our website in the testimonials section.
Frequently Asked Questions
Which foundation repair company in Hanover PA, provides the best subflooring services in Hanover, PA?
 Basement Gurus provides the best subflooring services in Hanover, PA. We provide customized subflooring solutions to accommodate all your needs. We have the right expertise, materials, techniques, and services to improve your flooring experience. So contact us today and get a free consultation. Our team of experts will guide you through the entire subflooring process and guarantee to give you the best results.
How long does the installation of a subfloor in Hanover PA take?
The gravity of the flooring issue, the kind of material and methods to be used and your personal preferences determine the amount of time required to complete the subfloor installation in Hanover, PA. You can write to Basement Gurus on our website or call us to get a free consultation which will help us determine the time we need to complete your subflooring project efficiently.
What are the benefits of subflooring in Hanover, PA?
The benefits of subflooring with Basement Gurus in Hanover, PA include getting free consultation and estimate, understanding the needs of your basement floor, 100% customer satisfaction, timely completion of subflooring project, and long-lasting results due to the use of high-quality materials, and latest techniques.
How do I know I need a subfloor in my basement?
When you notice cracks on your basement floor, find unnecessary mold growth, or experience freezing temperatures in your basement, this is a sign that you need to install a subfloor. It is essential to install subflooring in your basement to protect against moisture, provide insulation, stop dampness and mold growth, increase soundproofing, and protect the overall structure of your house.
What is subflooring?
Subflooring is the process of installing a base to your already existing floor. It helps create a gap between your flooring and the outside environment. This allows your home to have a more stable structure and prevents several issues related to water, temperature and sound.
Open Hours
Monday - Saturday 8AM-8PM Sunday - Closed
Locations
Philadelphia, PA 19111
Lancaster, PA 17601
Southamptom, PA 18966
Wilmington, DE 19804