Reliable leaky basement repair in Hanover, pa
Basement Gurus: Best Wet Basement Repair in Hanover, PA
Say goodbye to your leaky basement with Basement Gurus In Hanover, PA
Whether you have noticed puddles in your basement or whether your basement has a distinct moldy smell, chances are you have a leaky basement. If you have a leaky basement in Hanover, PA there is a high possibility that your flooring may sink and cause the structure of your home to weaken. But do not fret Basement Gurus in Hanover, PA provide excellent wet basement repair services and guarantees that your basement will be functional for years to come.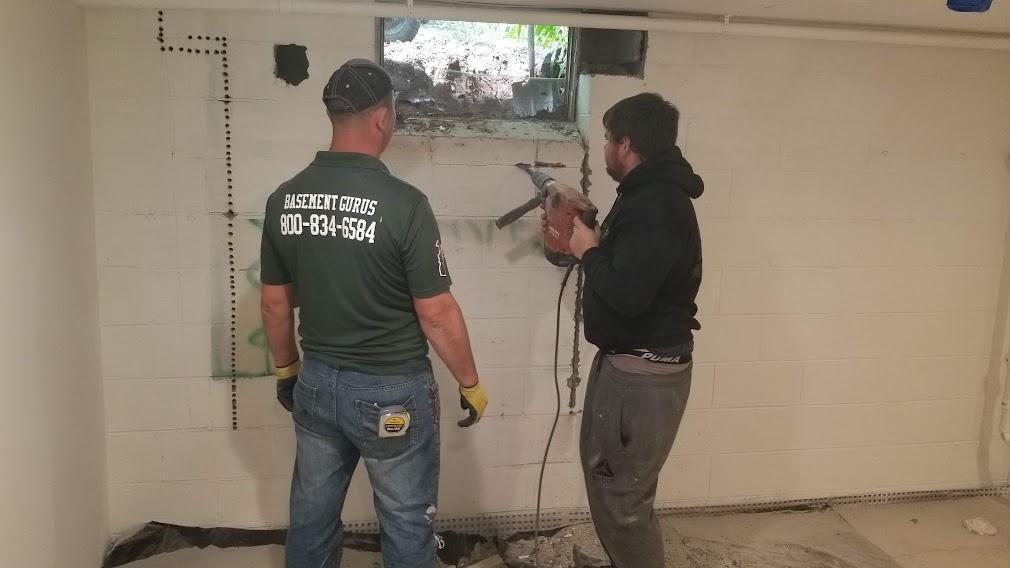 So don't wait until it's too late, neglecting your basement issues can lead to several risks to your home, environment, and health. Basement Gurus in Hanover, PA specializes in leaky basement repair and will make sure to put a stop to all your wet basement issues with our extensive experience, reliable materials, and multiple solutions. You can contact us today to get your free consultation where we will assess the root cause of your leaky basement issues and make your basement a functional space for you and your family.
Why Choose Basement Gurus for Wet Basement Repair Services in Hanover, PA?

Vast Experience
We at Basement Gurus Hanover, PA have a group of professional experts who have the right knowledge and skills to repair your leaky basement. Our years of experience in this field allow us to understand a range of wet basement issues. From basement cracks to water infiltrations and molding our team has seen it all. Due to our vast experience, you can rely on us to complete your leaky basement repair with precision and perfection.

Professional Assessment
Every basement repair project in Hanover, PA starts with a thorough assessment of the state of your basement through which we check for any leakages, mold, water seepage problems, cracks, etc. Once we identify all the underlying causes of the leaky basement, our team of experts with their knowledge and understanding of the issues then create a plan to repair your basement and prevent it from further leakages.

Timely Services
We understand that fixing a leaky basement on time is of utmost importance and therefore we at Basement Gurus work hard diligently and consistently to avoid further damage to your basement and home. We make sure to provide quality solutions and fix your leaky basement within time and without causing any inconvenience to your daily routine. 

Finest Materials
We will restore your basement to perfection with our top-quality materials. To prevent leaky basement issues permanently we make sure to use long-lasting and durable materials to avoid any kind of mold growth or structural damage in the future. We have access to the finest and top-graded materials for fixing leaky basements which we use for every basement repair project in Hanover, PA.

Advance techniques
Whether it be sealing, sump pump installation, mold remediation, crack repair, or waterproofing, we use the latest techniques and technologies to fix your leaky basement. We at Basement Gurus make sure to stay updated with the latest technological advancements related to basement solutions. By using only the best techniques in the industry we repair your basement and transform your wet basement into a new and dry space

Customer Satisfaction
Our topmost priority has always been customer satisfaction. In order to accomplish this we dedicate our time to have transparent communication with our customers and go above and beyond to meet all their needs. We can proudly say that we have exceeded the expectations of our customers throughout the years by providing them with quality services. Do check out our customer reviews available in the testimonials section of the website.
Frequently Asked Questions
What causes basement leaks in Hanover, PA?
Basement leaks in Hanover, PA may be caused due to already existing cracks in the foundation, poor drainage systems, damaged pipelines in the house, inadequate sump pumps, etc. No matter what the cause, Basement Gurus in Hanover, PA will provide you with the right solutions and guarantee long-lasting freedom from wet basement problems.
How can I fix a leaky basement in Hanover, PA?
You can fix your leaky basement in Hanover, PA by contacting Basement Gurus by phone or website. Basement Gurus offer a free assessment through which they will identify the root cause of your leaky basement and provide long-lasting solutions to repair your basement permanently.
Will basement repair increase the value of my home in Hanover, PA?
Yes, repairing your leaky basement will help you increase the market value of your property in Hanover, PA. If you are planning to sell your home you should definitely repair your basement as it will allow you to sell your property at a higher rate. 
Can I fix a leaky basement myself?
Repairing a leaky basement by yourself may prove to be detrimental in case of major leakage problems. Using quick-stop methods may not be very useful for the stability of your house in the long run. We, therefore, recommend you contact professionals at Basement Gurus who will address all your basement issues with their expertise and knowledge.
How much does basement repair cost in Hanover, PA?
 The cost of the basement repair largely depends on the scope of repair to be done, the materials to be used, and the number of issues to be resolved. You can get a free estimate for your leaky basement by contacting Basement Gurus in Hanover, PA who provide basement repair services and will guide you through the entire process to make your basement functional. 
Open Hours
Monday - Saturday 8AM-8PM Sunday - Closed
Locations
Philadelphia, PA 19111
Lancaster, PA 17601
Southamptom, PA 18966
Wilmington, DE 19804