Professional Foundation Repair in Hanover pa
Best Foundation Repair company in Hanover, PA: Basement Gurus
Repair the stability of your foundation with Basement Gurus, foundation repair in Hanover PA
If you have noticed small cracks on your foundation, this is a sign that your foundation has weakened. If left ignored, these small cracks may soon become more serious and expensive to address. The foundation is like the backbone that provides structural support and stability to your home. Therefore, it's critical to respond right away if you see cracks, settling, uneven floors, doors that won't close properly, or other indications of foundation damage. But do not worry, Basement Gurus in Hanover, PA provides professional foundation repair services with the guaranteed long-term stability of your foundation and home.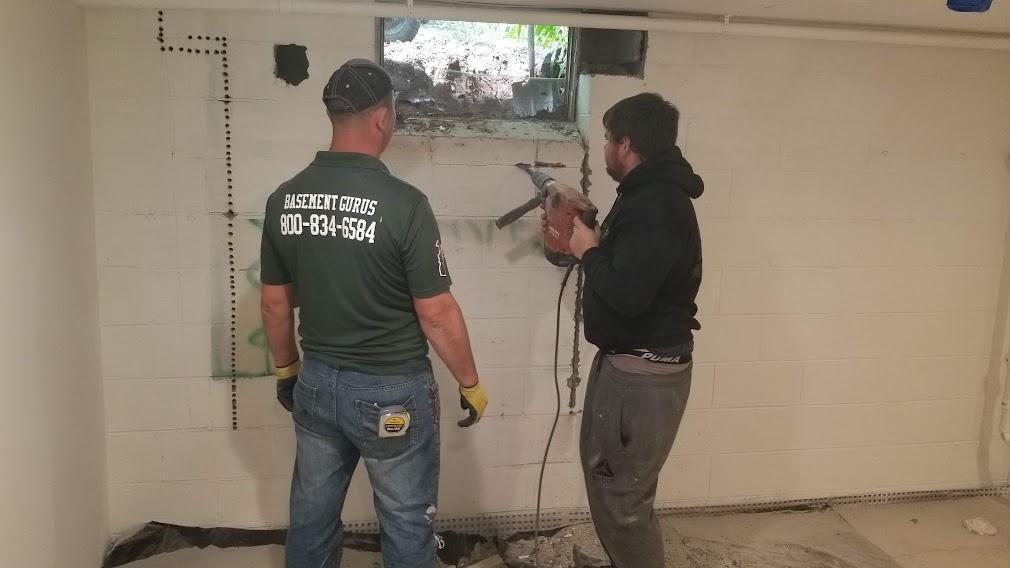 Our contractors here at Basement Gurus have years of experience in this field and will offer you expert advice on which repairs are best suited to meet your individual needs. We will guide you through the entire foundation repair process while offering you strong solutions that strengthen your foundation and give you peace of mind that your house is stable. Don't wait until it's too late contact Basement Gurus in Hanover, PA today and protect your foundation from further damage. With our proven results, you can rest easy knowing that your home is structurally safe and stable once more.
Why Choose Basement Gurus for Foundation Repair In Hanover PA?

Expertise You Can Trust
Our professional foundation repair contractor in Hanover PA have years of experience in this field and are equipped with all the skills to tackle even the most complicated foundation problems. We understand the complex nature of foundation systems and use the best techniques and materials to achieve long-lasting results. By choosing Basement Gurus you will be getting proven solutions by professionals.

Tailored Approach
We at Basement Gurus begin every foundation repair project with a thorough assessment of your foundation. We do this in order to pinpoint the root causes of any damage and evaluate the foundation's general health. This thorough study enables us to create a tailored repair strategy that caters to the unique requirements of your foundation in Hanover, PA.

Quality Materials
When it comes to choosing the right materials for foundation repair, we do not compromise. Because we want to deliver long-lasting solutions to your foundation problems and in order to do that we need to use high-quality materials. We have access to high-standard and top-grade materials which we use for every foundation repair project in Hanover, PA and it has contributed to our reputation.

Cutting-Edge Solutions
Every foundation problem is unique, and the same approach doesn't work for every repair project. Therefore we use various state-of-the-art techniques to provide you with the best solution for your specific foundation issue. Our range of techniques includes helical piers, steel push piers, slab leveling techniques, wall anchors, and many more. With these techniques, we at Basement Gurus are able to provide you with cutting-edge solutions for your foundation problems in Hanover, PA.

Long term stability
One of the most significant purchases you'll make in your lifetime is your home. Therefore, foundation damage may be a major cause of stress. With the help of Basement Gurus, you can rest easy knowing that your foundation is in good hands with our expert repair services. We guarantee that our techniques, methods, and materials will provide you with the long-term stability of your foundation and home.

Customer Satisfaction
We can proudly say that our aim is 100% customer satisfaction. We strive hard to provide you with perfect foundation repair services. We make sure to finish the work on time, we try to work within your set budget and also give you the right advice for the home. We have several testimonials from satisfied customers and 5-star reviews to back up our claims.
Frequently Asked Questions
What foundation repair methods do Basement Gurus in Hanover, PA use?
Our experts at Basement Gurus use a range of foundation repair methods including helical piers, steel push piers, slab leveling techniques, wall anchors, and many more. We choose the right foundation repair method according to the issues that we identify during the assessment of your foundation. We guarantee to recommend the best suitable repair method for your foundation.
Is foundation repair in Hanover PA covered by insurance?
This strictly depends on the cause of the foundation issues and your insurance policy. Some insurance policies might pay for foundation repairs brought on by natural calamities, such as floods or earthquakes. Normal wear and tear or maintenance-related problems, however, are frequently not covered. For further information, review your policy or speak with your insurance company.
How do I know that my house needs a foundation repair?
 Cracks in your foundation are one of the first indications that you require foundation repair. Other than that if your doors or windows are sticking or your walls and ceilings have cracks, there is a high chance that your foundation is weak or shifted. Regardless of what the issue may be, Basement Gurus at Hanover, PA provides high-quality foundation repair services and provides long-lasting results.
How long does foundation repair take?
Ans. To avoid going through foundation problems again, you should try to make your repairs so they last as long as possible. The materials and technique to be used and the issue of your foundation are just a couple of the aspects that determine how long a foundation repair will take. We can answer this question better once we have assessed your foundation issue. You may contact us on call or through our website for further details.
Can I trust the contractors at Basement Gurus in Hanover, PA?
The foundation repair contractors in Hanover PA have years of extensive experience and have provided several homeowners with long-lasting foundation repairs. We have received several 5-star ratings and reviews which can be checked on our website. We have built our reputation and credibility through our tailored approach, high-quality materials, and cutting-edge techniques.
Open Hours
Monday - Saturday 8AM-8PM Sunday - Closed
Locations
Philadelphia, PA 19111
Lancaster, PA 17601
Southamptom, PA 18966
Wilmington, DE 19804